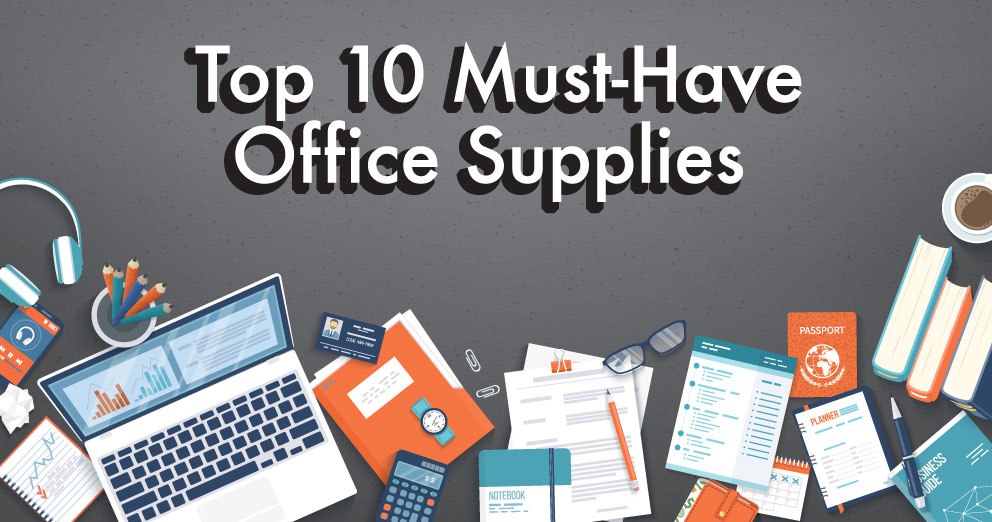 Office Supplies
Top 10 Must-Have Office Supplies
Whether you're setting up a home office or keeping an entire corporation humming, there are some office supplies you can't do without. Find out which must-have office supplies you should be stocking up on to set your office up for success.
Writing Utensils
Even though the majority of work is done on computers in this day and age (handy considering the pandemic-induced work-at-home revolution), writing utensils are still high on the list of important office supplies.
Here are some of the most useful products for hand-written work and how they can be used:
Pencils work well for any task where permanence isn't an issue but accuracy is. Some people simply prefer the feel of a pencil on paper over a pen.
Mechanical pencils are a great alternative to regular pencils for people who despise pencil sharpeners but love erasers.
Ballpoint pens in black and/or blue are perfect for taking hand-written notes and any other incidental writing that occurs throughout an office.
Black permanent markers are great for labeling things like moving boxes or file folders.
Assorted highlighters are perfect for marking up reports, organizing notes, or creating a simple color-coding system for your filing cabinets.
Dry erase markers are great for whiteboards.
Consider keeping some ergonomic writing tools on hand for staff who struggle with hand and wrist pain.
Notepads
What good are writing utensils if you don't have anything to write on? Composition notebooks, various sizes of legal pads, and sticky notes are all crucial office supplies. Composition notebooks are great when keeping track of hand-written project notes or creative ideas in one place. Legal pads are perfect for keeping by the phone to write down quick messages or taking notes while working on the computer. Sticky notes are great organizational tools and are perfect for leaving short messages.
Binders and Binder Accessories
Binders are perfect for putting together reports, keeping manuals or employee handbooks in good condition, and many other common tasks in the average office. All the accouterments of binders like tabs, page protectors, pockets, or labels can make organizing projects and presentations easier and the result more professional.
File Folders
If you have a filing system (as almost every office does, despite that more and more records are being kept digitally), you'll need file folders. Hanging file folders keep your paperwork organized and make it easy to find what you're looking for.
Mailing Materials
From envelopes in all shapes and sizes to flat cardboard boxes to bubble wrap to packing tape, even in a business that doesn't send products directly to consumers, mailing materials are important to have on hand. You never know when you'll need to overnight a contract or ship a faulty computer back to the manufacturer. Legal envelopes and corrugated cardboard boxes are must-have office supplies.
High-Quality Staplers and Hole Punches
Grouping tools like staplers (and requisite staples and staple removers), hole punches, paper clips, binder clips, and rubber bands are an important part of a peaceful, organized office. For instance, a high-quality three-hole punch keeps documents that need to go in binders from being damaged. This also prevents staff from becoming utterly frustrated with a hole punch that doesn't carry out its job well.
First Aid Supplies
Paper cuts can be brutal. In an office, injuries are bound to occur. It's critical to have the proper first aid supplies on hand to prevent a mild injury from turning into a major problem. A basic first aid kit that's well-stocked and easy to find should be present in every office.
Disinfectant Products
If the pandemic has taught business owners and decision makers anything, it's that cleanliness plays a huge role in a business's ability to continue operations.
There are TONS of common surfaces in offices. Keeping those surfaces clean and free of potentially harmful microbes oftentimes helps people feel at ease in a public place. Disinfectant products that include a cleansing agent, per new CDC recommendations, should be made available in high-touch areas. This is so staff members can wipe down surfaces after they finish touching them.
Providing hand sanitizer stations in strategic common use areas, like the break room or outside of the copy room, promotes a clean and healthy workspace.
Trash and Recycling Cans
Even in a paper-free office, there will always be a certain amount of detritus that must be dealt with. By keeping trash cans and recycling bins near every work area (or even under every desk), workspaces stay tidier and people don't have to leave their area as often.
Paper Shredder
Paper is becoming more and more obsolete in many industries. Still, a lot of the really important stuff is relegated to paper. A high-quality shredder can ensure that those sensitive documents don't fall into hands that may misuse them. The FTC recommends shredding bills, receipts, and many other documents that aren't related to taxes or insurance immediately after they're settled. Added bonus: shredding paper can be cathartic.
Many important office supplies are things that we don't think twice about using daily, but they're so important! Keeping track of office supply inventory. Ordering in a timely fashion can help keep your office running smoothly and improve productivity. Be sure to contact your sales rep from Trinity Packaging Supply to place an order. Alternatively, you can send an email to info@trinity.global to get your order in today!