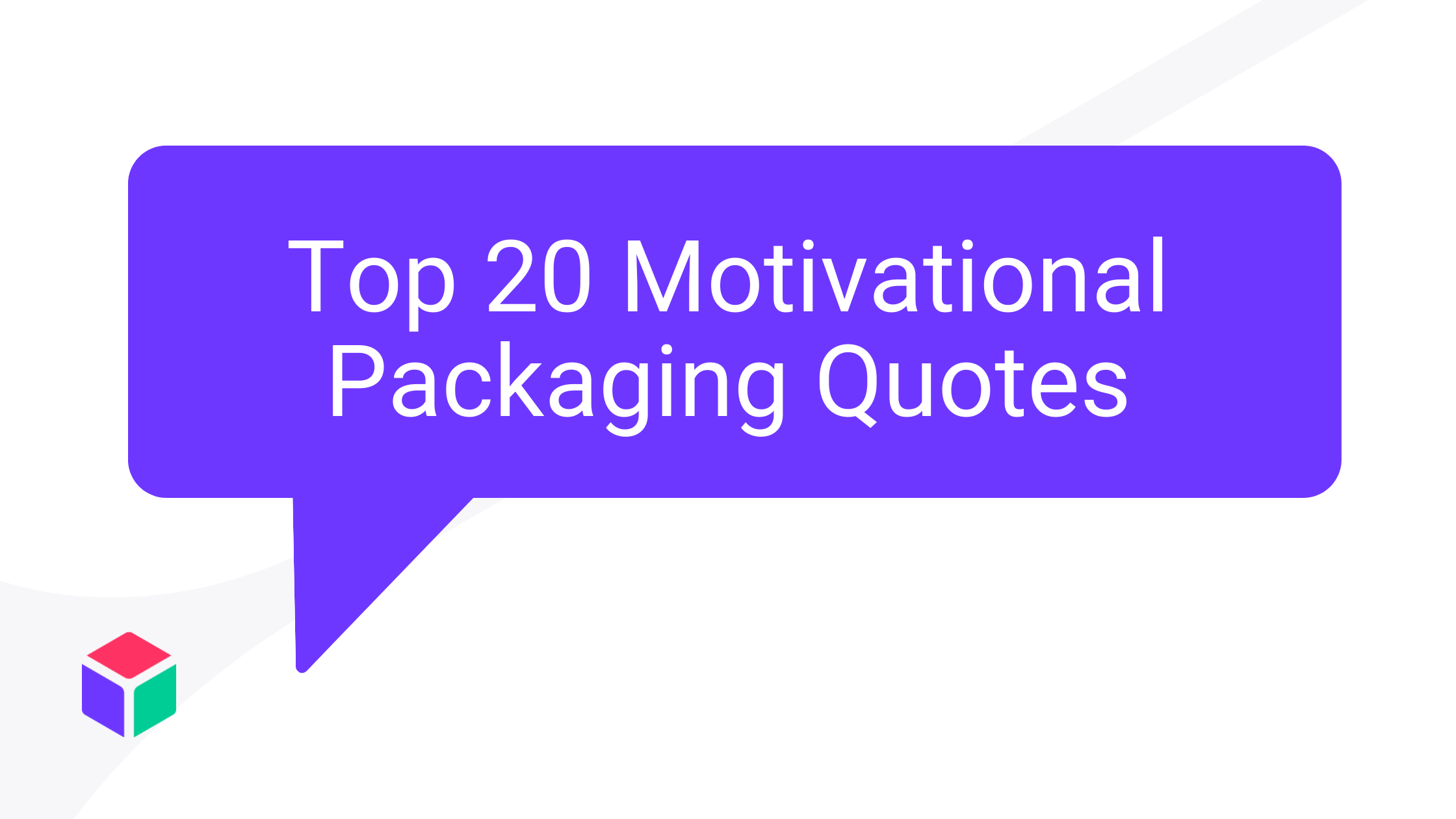 Packaging
Top 20 Motivational Packaging Quotes
We have a lot to say about packaging - and so does everyone else!
We've compiled a list of our favorite packaging quotes, ranging from truly inspirational to utterly hilarious.
20 Best Packaging Quotes
1. "Packaging can be theater, it can create a story." - Steve Jobs
2. "If the packaging is good, the actors, director and producer - then it will work, even if the product is not good." - Nushrrat Bharuccha
3. "Sometimes life gives us lessons sent in ridiculous packaging." - Dar Williams
4. "Some people are really good at packaging themselves, but that's not really me." - Sophie Ellis-Bextor
5. "Dealing with those personalities and the people who run this music thing has been most challenging. It's hard to really communicate things to people who run a business yet forget the nature of the business. They only look at the bottom line and the financial return, you know, they forget what it is they're packaging. It's art." - Q-Tip
6. "Politeness is deception in pretty packaging." - Veronica Roth
7. "As a publisher, you should decide what content is free and what you'd pay for. You have to get the packaging right, but the people will pay for content." - Mike McCue
8. "I tend to avoid cakes made with matzo meal instead of flour. Also, most prepared dessert products and mixes. Sometimes the packaging they come in tastes better than the product." - Gil Marks
9. "The essence of the show is that SpongeBob is an innocent in a world of jaded characters. The rest is absurd packaging." - Stephen Hillenburg
10. "A hen's egg is, quite simply, a work of art, a masterpiece of design and construction with, it has to be said, brilliant packaging!" - Steve Jobs
11. "I'm a sucker for packaging!" - Chloe Sevigny
12. "From packaging materials, through fibers, foams and surface coatings, to continuous extrusions and large-scale moldings, plastics have transformed almost every aspect of life. Without them, much of modern medicine would be impossible and the consumer electronics and computer industries would disappear. Plastic sewage and water pipes alone have made an immeasurable contribution to public health worldwide." - Frank Chimero
13. "I'm not a makeup person, but I love wearable products that are easy to use, with fun packaging." - Charlotte Ronson
14. "My motto is strong packaging, clear addressing." - Halldor Laxness
15. "If you can build a powerful brand, you will have a powerful marketing program. If you can't then all the advertising, fancy packaging, sales promotion and public relations in the world won't help you achieve your objective." - Al Ries
16. "Recycling, packaging, businesses are changing all of those things because that's what consumers want." - Jerry Greenfield
17. "If dogs don't like your dog food, the packaging doesn't matter." - Stephen Denny
18. "With a little more tweaking, we could make orange juice in the orange without any packaging or processing." - Homaro Cantu
19. "Curation is more than packaging - it is to help readers [discern] what is important in the world." - Maria Popova
20. "Time is a circus, always packing up and moving away." - Ben Hecht
Need an Actual Packaging Quote?
Trinity offers the largest packaging catalog, with over 80,000 products in stock and ready to ship. Our national account managers are ready to help you find the best packaging solutions at the best price for your business.
Connect with one of our packaging experts at (850) 520-8332 or fill out this form to request a free quote!