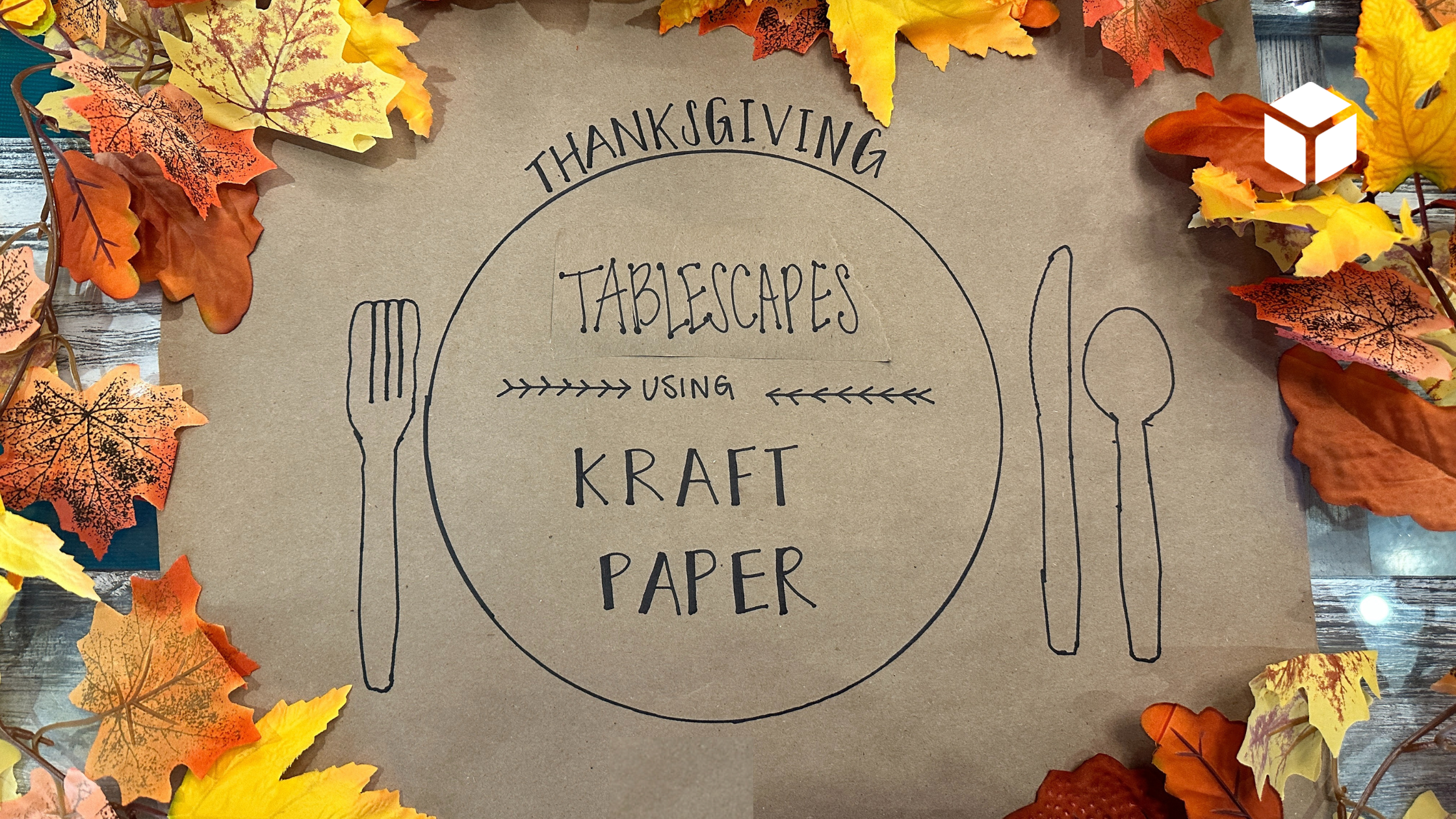 DIY
3 DIY Thanksgiving Table Decor Ideas Using Kraft Paper
When you think of Thanksgiving, what's the first thing that comes to mind?
Food - roasted turkey, mashed potatoes, stuffing, and the yam dish covered in marshmallows.
Turkey Day is a famous food holiday where loved ones gather, share a meal, and revel in gratitude. This means that your food shouldn't just be delicious, but your table should be gorgeously set.
The good news is, we have the perfect solution for your table that will take your hosting to the next level and help cut down on cleaning time: kraft paper.
What Is Kraft Paper?
Kraft paper is made using the Kraft Process, which chemically converts wood into wood pulp to create paper goods. Since natural kraft paper does not require extensive bleaching, it is stronger, lower in cost, and a more eco-friendly option than other paper products.
Natural kraft paper's strength makes it a great option for manufacturing purposes and it is often used to wrap individual products or serve as void fill.
While it is a versatile packaging supply product, kraft paper has many creative uses. For example:
3 Kraft Paper Thanksgiving Table Decor Ideas
Another easy place to use kraft paper in your home? On the table!
Kraft paper rolls make for a great DIY tablecloth since it's cost-effective and customizable. Plus, once you're done with dinner, all you have to do is throw it away! Just remember to recycle since it is eco-friendly.
Idea #1: DIY Thanksgiving Table Runner
Have an extra-large table that requires a custom tablecloth, or just simply not a fan of having to wash them post-dinner? Dress up your table with an easy kraft paper runner!
The best part about a kraft paper runner? It can be customized in a multitude of ways using products you have around your house.
Ditch the Place Cards
Save space on the table by using the runner as a place card! All you need to recreate this is a kraft paper roll and a thick black permanent marker.
Add a Rustic Element
Are you going for a more natural, rustic-looking decor theme for Turkey Day? Take a roll of natural kraft paper and add leaves, candles, and pumpkins to the top for a gorgeous tablescape.
Make Your Table's Sides the Star
Everyone always focuses on the top of the table - but don't forget about the sides! Add a little flair to your feast by giving your runner a fancy fold or some cute artwork.
Image Credit: Bellwether Events
Inspire Your Guests
Remind your guests what Thanksgiving is all about by adding inspiring words to your kraft paper runner. You can use a variety of tools to create this look, including:
Permanent markers
Craft paint
Stamps
Stickers
Take this idea to the next level by getting your guests in the spirit of gratitude by asking them to add what they are thankful for to the runner!
Idea #2: Kraft Paper Thanksgiving Placemats
Want something a little simpler? Protect your table and prevent messes with disposable Thanksgiving placemats made with kraft paper.
Image Credit: Apartment Therapy
A Place for Gratitude
Need an easy activity for the family while dinner is being prepared? Have them jot down what they are thankful for on their placemat. Just add a few lines to the paper using a permanent marker or colored paint pen, and add a pencil to each place setting.
Image Credit: The Organized Mom
No Chargers? No Problem.
Forget fancy chargers this year and make your dishwashing load a little lighter with circular kraft paper placemats! All you have to do is take a bowl larger than your biggest dinner plate, trace the outline onto a kraft paper roll, and cut.
Image Credit: Liz Stanley of Say Yes
Organize the Kid's Table
Teach your littles the proper place for their fork and knife with these easy DIY placemats. Your kids will have fun tracing each element onto their individual pieces of paper - plus, it will keep them out of the kitchen!
Seating Chart Goals
Ditch place cards and fancy linens for rectangular kraft paper placemats. If you feel like customizing them, go for it! You can:
Add your guests' names
Incorporate fall-themed designs, like stamped leaves
Scallop the edges using craft scissors
Idea #3: DIY Kraft Paper Tablecloth
Are you a sucker for a traditional tablecloth? Make cleanup a breeze this year with a disposable kraft paper version that is cute, recyclable, and cheap!
Keep It Simple
Thanksgiving is busy enough. Make your table decor pop with a simple, eco-friendly kraft paper version. All you have to do is unroll, add some candles, and voila! Your table is ready for dinner.
Mark It Up
Organize your Thanksgiving table using kraft paper and a permanent marker! You can:
Trace where your guests' plates will go
Write guests' names in lieu of place cards
Designate what types of dishes you are serving
Draw fall-themed designs
Image Credit: The Postman's Knock
Food for Thought
Thanksgiving tables can get crowded! Give each dish a place and let your guests know what casserole is what by designating a space for it on your runner. All you need is a thick black permanent marker.
Image Credit: The Hosting Home
Ready, Set, Draw!
Keep your kids entertained for hours with a colorable tablecloth! You can either leave them with a blank slate or draw holiday-themed symbols for them to color.
Your Holiday Wholesale Packaging Source
Don't stop at the table setting! There are so many fun DIY Thanksgiving crafts to gobble up this season that feature packaging supplies, including labels for your Turkey Day leftovers and kraft paper napkin rings.
As for Team Trinity, we couldn't be more grateful for our loyal customers, who trust us to provide them with a national network of wholesale packaging supplies at the lowest price and quickest lead time possible.
If your business needs bulk wholesale packaging supplies or custom orders, give us a call at (850) 520-8332 or fill out this form to get a free quote! Our National Account Team is ready to help your business have a happy holiday season!