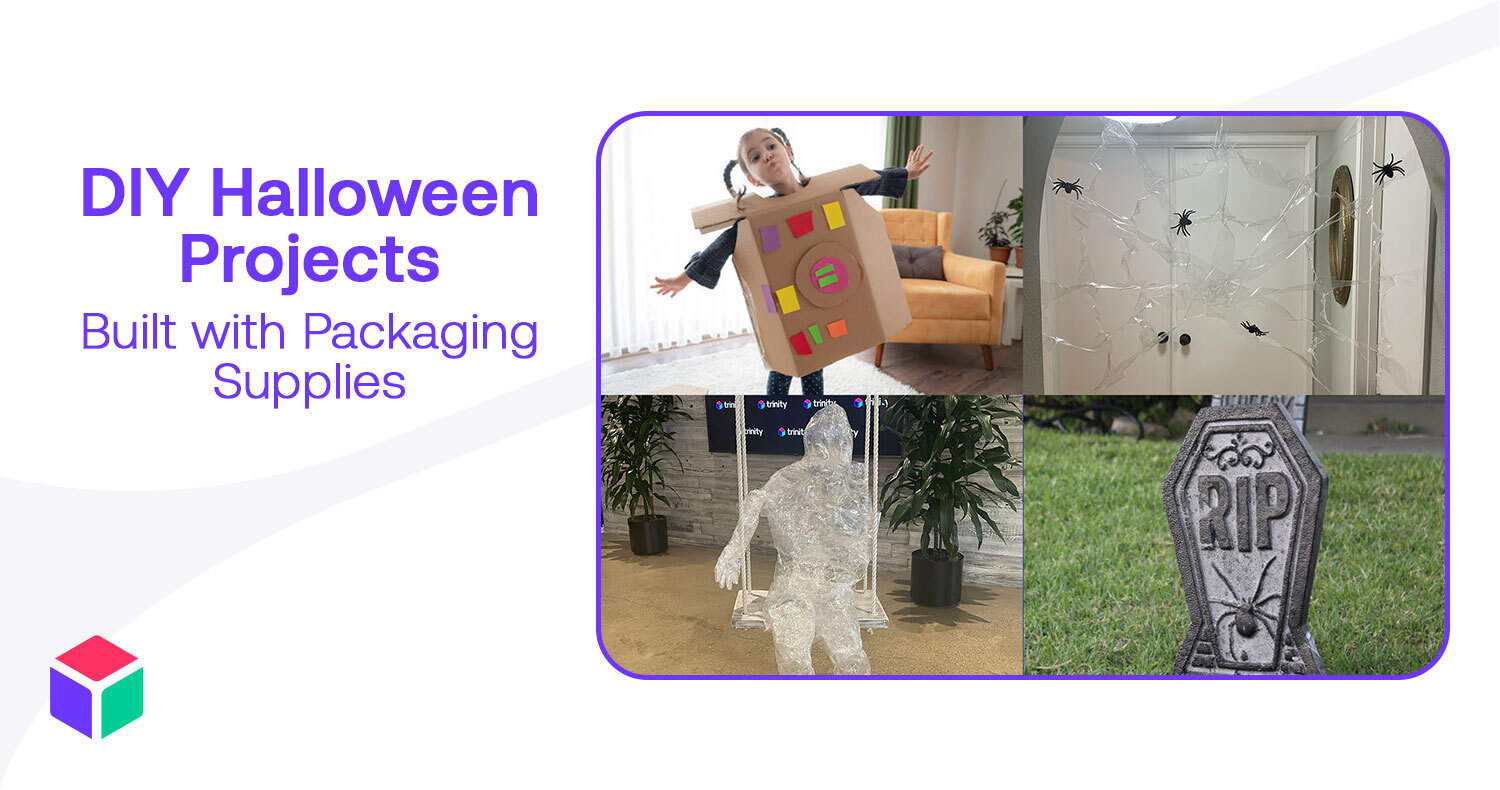 DIY
4 DIY Halloween Decorations Made With Packaging Supplies
Spooky season is officially here! There's no easier way to get into the Halloween spirit than with some frightfully fun DIY Halloween decorations the whole family will love.
Not sure where to start? We've found four easy DIY Halloween decor and costume ideas you can create using packaging supplies you probably already own!
So, grab your boo, find your packaging supplies, and get crafty.
Project #1: Packing Tape Ghost Decorations
Turn your house into a haunted one with the help of these "spooktacular" DIY ghost decorations! All you need to create these apparitions are:
Clear packing tape (about two rolls per body)
Scissors
How to Make DIY Ghost Decorations
To make the packing tape ghosts, wrap your fingers and hand with cling wrap.
2. Once completely wrapped, take your packing tape and wrap it around your cling-wrapped hand and fingers. Make sure to wrap it 2-3 times to make your ghost strong.
3. Once your hand is wrapped with tape, carefully take scissors and cut down the middle of the taped hand, stopping before you get to the fingers.
4. Gently wiggle your hand out of the cling wrap/tape.

5. To make the hand whole, use packing tape to connect the hand where you cut it with scissors.
6. Repeat this process on all parts of the body.

7. Once you have created all the body parts, use your packing tape to attach everything together.
Voila! You now have a hauntingly scary house guest.
Pro Tip: While creating these using your own body is possible, we recommend enlisting a friend to use as a model. It makes the process much easier!
Project #2: Cardboard Box Halloween Costumes
You don't need to spend hundreds of dollars on a Halloween costume - just think outside the box!
Our easy DIY costume solution - use corrugated boxes! There are a variety of cardboard box costume ideas all over the internet and Pinterest - for example, some of our favorite DIY costume ideas include:
Don't be afraid to use your imagination! While there are many cardboard costume ideas available, challenge yourself to create something unique.
Project #3: Packing Tape Spiderweb Decor
Want to make a web that would even make Charlotte jealous? All you need is some clear packing tape!
This larger-than-life packing tape spiderweb will surely catch the eyes of your Halloween party guests. However, since packing tape can peel paint off surfaces, make sure you create this somewhere where you won't have to repaint on November 1st!
How Do You Make a Spiderweb Out of Tape?
1.) Start with one long piece of packing tape. Attach one end to the very middle of the structure where your web will sit (wall, ceiling, etc.).
2.) Take another long piece of tape and attach one end to the structure and the other to the first piece of tape, creating the center of the web.
3.) Pinch each piece of tape together to create a string effect.
4.) Continue this process until you create the basic structure of your web.
5.) To make the spiral web design, start a few inches from the top of the web where the long pieces are attached. Take a small piece of packing tape and attach it to two of the longer pieces of tape. Pinch it together to make it more string-like.
6.) Continue this process all the way around the web. Once you reach the first short piece of tape, go a few inches lower onto the web and repeat the process again. Continue until you reach the middle of the spiderweb.
OPTIONAL: Take white acrylic paint and randomly sponge a bit of paint onto the web to make it less translucent.
7.) Once you finish taping (or the paint has dried), add plastic spiders to your packing tape web.
Project #4: Cardboard Tombstones
Here lies the easiest method for creating totally terrifying tombstones.
These easy DIY tombstones couldn't be simpler to make - all you need is a box!
How do you make a fake tombstone out of cardboard?
We love this DIY tombstones tutorial that utilizes everyday packaging items you have around your house, including
Corrugated boxes
Packing tape
Scissors
Decoupage glue
Newspaper
Hot glue
Spray paint
If you want these to stand upright on their own, heavy items like rocks, bricks, or small bags of sand will help ensure your headstone doesn't bite the dust.
The hardest part you'll have making these DIY tombstones is deciding what clever names to engrave on them!
Looking for Scary Good Packaging Supplies?
Did you know that Trinity has packaging's largest catalog, with over 80,000 supplies (like cardboard boxes and packing tape!) in stock and ready to ship?

Contact us today at (856) 520-8332 or email info@trinity.global for more information.