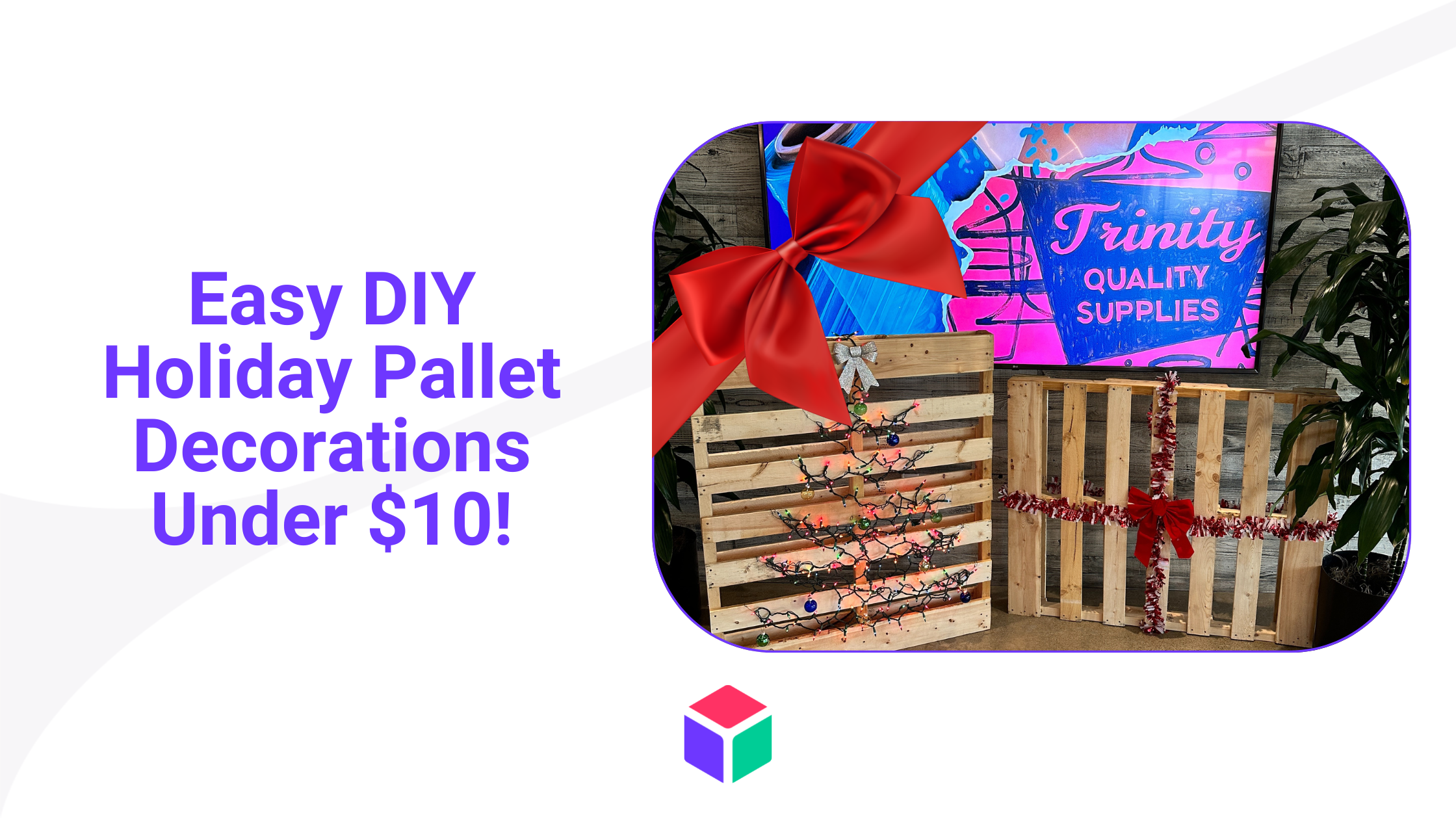 DIY Christmas Decoration Ideas Using Pallets for Under $10
'Tis the season for DIY Christmas decorations!
Nothing makes a space feel jollier than holiday decor - especially if it's homemade.
Here at Trinity Packaging Supply, we're partial to wood pallets. After all, it's one of the 80,000+ wholesale packaging supplies in our vast catalog.
Pallets are essential for shipping holiday goodies from business to business, but did you know that wood pallets make an excellent canvas for DIY Christmas decorations?
We've rounded up our favorite Christmas pallet ideas to make your space a bit merrier, and the best news is, these DIY pallet ideas all cost less than $10 to make!
Easy DIY Pallet Christmas Tree
There are a ton of cute pallet Christmas tree crafts out there, but most require the use of saws to trim the pallet into the shape of a tree.
If you're looking for Christmas tree pallet ideas that don't require power tools, we have the perfect project for you!
This DIY pallet Christmas tree is made using:
1 recycled wood pallet

1 50-foot string of multicolor mini-lights

Packing tape

1 small-to-medium sized bow (we like this kind with the twist tie backing)

1 pack of ornament hooks

Small round ornaments
Directions:
Start by plugging in your mini-lights. Take the string and drape it over the pallet to create the point of your tree.

Tape the string to the top of the pallet with packing tape.

Take the strings and pull it to the right, creating the first zig-zag to create the tree shape.

To attach the string of lights to the pallet, hook the top of the ornament hook to the pallet. Hook the string of lights on the bottom of the hook. Tape over the hook with packing tape to hold it in place.

Repeat the steps above all the way down the pallet to create a zig-zag pattern, extending the length of the string on each pallet slat.

Once you've run out of string lights, tie the bow to the pointy part of your "tree" at the top of the pallet.

Finish your pallet Christmas tree by hanging small ornaments on the string lights.
DIY Pallet Presents
Looking for a DIY pallet project that is a bit simpler? Deck your halls with these wood pallet "presents" that take less than 5 minutes to make!
All you need to recreate this DIY pallet idea is:
1 spool of wide ribbon or garland

1 large bow
Directions:
Starting in the middle of your pallet, take your ribbon and wrap it around the width of the pallet.

Cut the ribbon to fit and tie it together.

Repeat this process going the opposite way (top to bottom).

Finish by tying your bow to the center of the pallet where the two strands of ribbon meet.
Painted Pallet Holiday Signs
Bring out your inner artist and swap power tools for acrylic paint!
One easy and safe way to decorate your wood pallets is to paint your favorite characters or phrases onto the wooden slats. We love this snowy welcome sign that brings the holiday spirit outdoors.
All you need to create a painted pallet is:
Acrylic paint

Paint brushes

1 large tarp (after all, we don't want any messes!)
Wholesale Pallet Ideas for Work and Play
We don't just have out-of-the-box ideas for DIY pallet projects. Trinity helps supply wholesale pallets to businesses across the country.
However, we do more than just supply pallets. We help businesses generate more revenue and be more eco-friendly with our pallet buyback program.
Our buyback program helps fulfill our commitment to zero landfill waste and becoming more environmentally friendly. 100% of the wood pallets we supply are either repaired and reused or recycled and turned into mulch. Additional benefits of our pallet program include:
Additional revenue: Get paid for your broken pallets and add a new revenue source to your business.

Track your revenue: We give you instant access to your buyback revenue data with Trinity Connect.

Maintain supply: Our buyback program helps provide our network of 350 pallet yards with the raw material needed to maintain a steady stream of pallets and help mitigate shortages.

Improve sustainability: Forget the landfill! 100% of our wooden pallets are repaired or recycled and turned into mulch, so it's better for the environment and your bottom line.

Interested in learning more about our wholesale pallet program? Give one of our National Account Managers a call today at (856) 520-8332 or send us a message for a free quote.