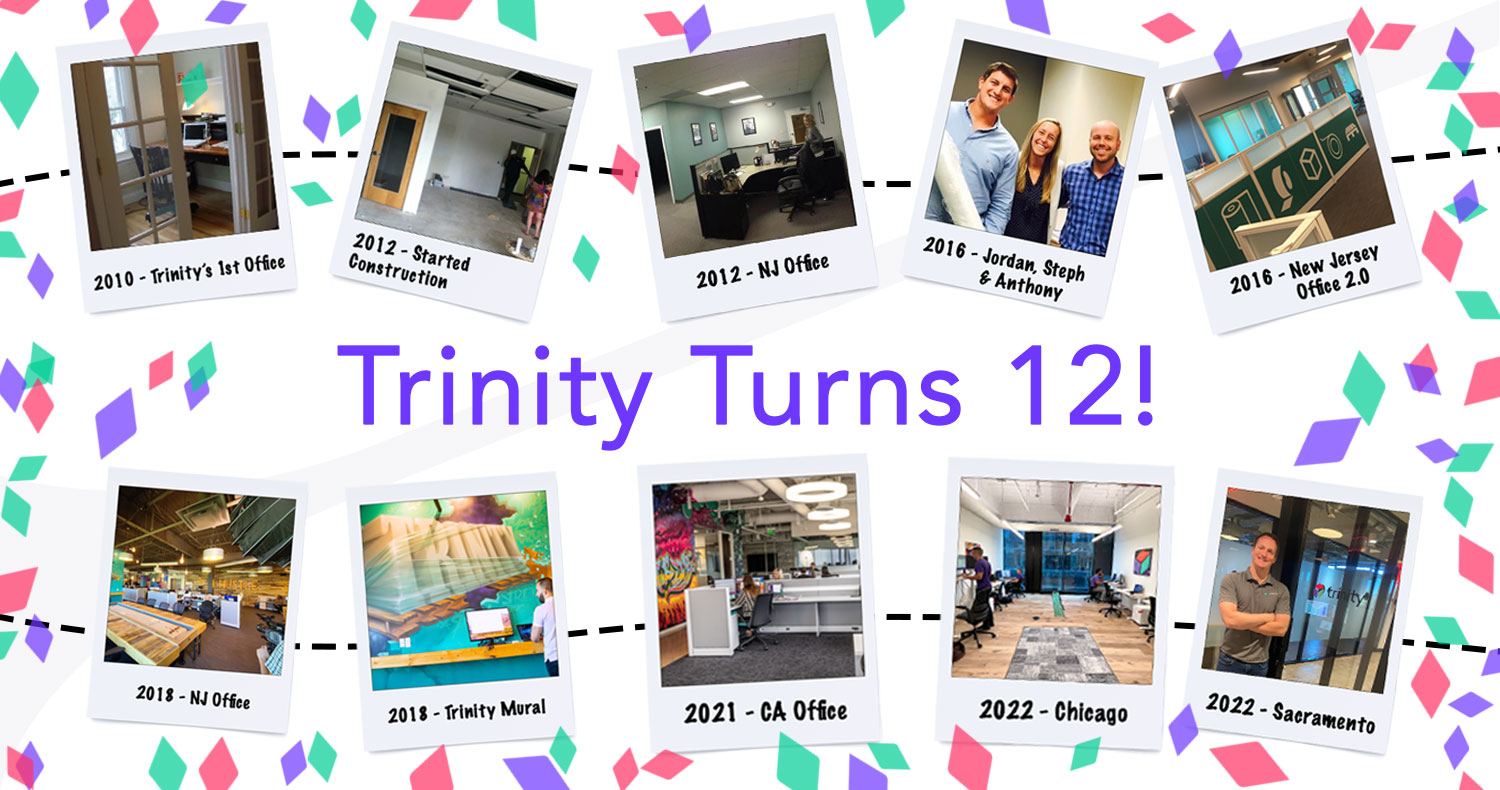 Team Trinity
Happy Birthday to Us! Trinity Turns 12.
It's our party, and it's time to celebrate!
We officially turn 12 years old today, and when we blew out our candles, we made one wish: to become a billion-dollar company. Along our path to a billion, we want to share our story of how Team Trinity came to be!
So, grab your party hat, dig into some cake, and help us celebrate how much we've grown with a trip down memory lane.
Chapter 1: Trinity Takes Flight
On August 23, 2010, our CEO Anthony Magaraci opened the doors to his home office and founded Trinity Packaging Supply.
"I saw an opportunity to modernize an outdated packaging industry," Magaraci told Medium. "but breaking into the field as a newcomer required a lot of cold calling and a ton of hustle."
That year with one employee, Trinity made nearly $30,500 in revenue. Not bad for a 5-month-old company!
Chapter 2: Office Space
In the summer of 2012, Trinity took its next big step - an official office space in Voorhees, NJ!
While construction on our first office space was underway, Trinity's three employees rallied hard to bring in $3,070,728 in revenue - that's 100x more than what we had earned just two years prior!
Chapter 3: Trinity Goes West
If we had to sum 2014-2016 up in one word, it would probably be "expansion."
Our New Jersey office was getting quite full. After all, we'd quadrupled in employees in the four years since we'd opened those office doors.
But we didn't just move into a new, bigger New Jersey office (which we totally did that summer) - we set our sights on more golden, beachy pastures.
We opened our first Southern California office in 2014, officially making Trinity coast-to-coast. However, we didn't only grow our real estate. We doubled our annual revenue from 2014, bringing in over $12.2 million by year's end.
Chapter 4: Adding a Little More "Hustle"
If you think our 2016 growth was crazy, in 2018, we doubled in size and revenue again!
Not only did we bring in over $26.5 million in annual revenue, but our employee count grew to 29. And that called for an office makeover.
We expanded our New Jersey office and remodeled it into the space you see today, complete with swings, shuffleboard conference tables, and our infamous "HUSTLE" sign.
Chapter 5: On the Road Again
Think we'd be happy with two bi-coastal offices?
No way!
In 2018, we opened a new Trinity office in Chicago and in 2022 we opened our Sacramento office.
We also doubled in employees again, bringing our grand total to 56 employees across the US. To celebrate, we moved to a new Southern California office overlooking beautiful Newport Beach.
And as if that wasn't enough growth, we're projected to make $100M in revenue by the year's end.
And That's Only the Beginning…
We've accomplished a lot in our first 12 years of business:
Since 2011, our company has doubled in revenue every two years.

We've made Inc. Magazine's Fastest-Growing Companies in the Country list seven years in a row.

We've been honored as one of Inc.'s Best Workplaces in America three times.

We're packaging's largest catalog, with over 80,000 packaging and industrial supplies in stock and ready to ship.
And we're just getting started.
"Every single chance I get, I like to take a minute to appreciate those who helped Trinity get to where we are now," Magaraci said. "Thank you to our loyal customers, trusted suppliers, and dedicated employees for 12 incredible years. We wouldn't be celebrating today or be on the path to $1 billion without your amazing support."
We have so many big plans for the years to come, but our goal remains the same as it did in our humble home office: we want to help businesses do better. From organizing warehouses to finding the best packaging supplies for your products, our hardworking team is ready to help you find the perfect solution for your needs. Click here to contact us today.
We are grateful for each and every opportunity you give us to help your business succeed, and we look forward to growing with you over the next 12 years (and more!).