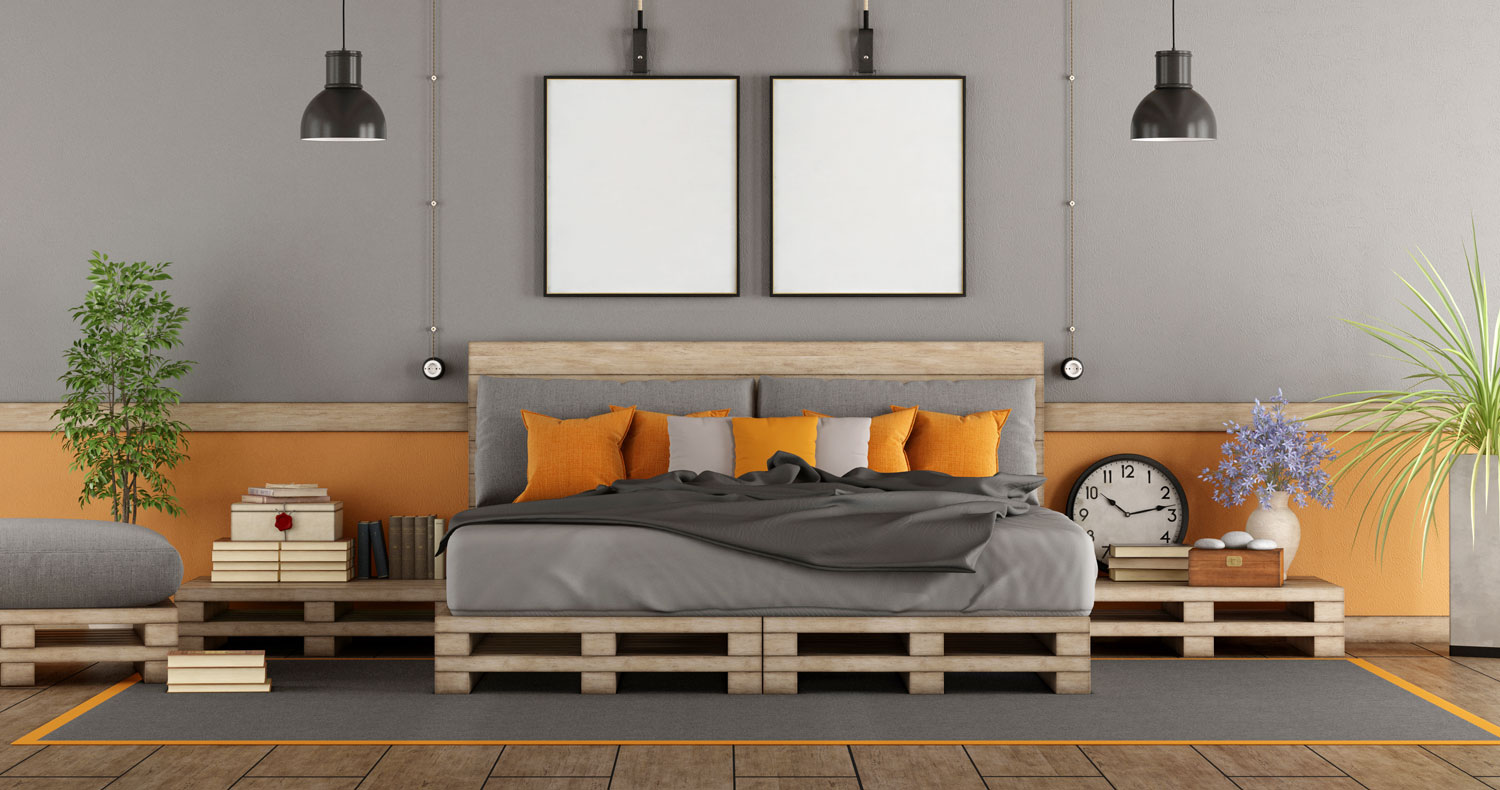 DIY
How to Make a Pallet Bed
With lumber prices soaring over the last year, lots of people are turning to pallets for their wood projects instead of buying lumber at a lumberyard or big box store. Beds are one of the most popular projects people are looking to DIY with wooden pallets, and it's no wonder! There are SO many options out there for building a pallet bed, with every style you could imagine and required skill levels from beginner to expert. Here, we'll teach you how to make a basic pallet bed that fits into any space.
Prepping to Build Your Pallet Bed
To get your project off on the right foot, obtaining the right pallets are critical. Here are a few things you'll want to look for in pallets that you're using for a DIY bed project:
No defects like broken boards or major splintering of the wood
Pallets not processed with chemicals as indicated by stamps on the pallet
A wood tone that works with your décor, or you can always paint or stain pallets that don't have the look you're trying to achieve
A style of pallet that works for your project (reversible and close-boarded are some of the most popular styles for DIY projects)
Where to Get Wooden Pallets
There are so many ways to get your hands on wood pallets! Oftentimes businesses give them away when they're no longer needed or you might find them at the end of someone's driveway on trash day just waiting for a new home. You can also keep an eye on online buy/sell sites like Craigslist and community groups on Facebook for curb alerts or wooden pallets for sale or free.
Building Your Pallet Bed
Here's what you'll need to get started on your basic queen-sized pallet bed:
4 standard- sized pallets (standard pallets are 48 in. x 40 in.)
Sandpaper and a power sander or sanding blocks
Finish and sealer of your choice
Foam that's the size of your mattress
Building a pallet bet is a simple, step by step process.
Sand the pallets, eliminating any rough edges and splinters. Start with a rougher grain to remove larger imperfections and then shift to a smoother grain for a supple finished product.
If you so desire, finish pallets with paint or stain and add a polyurethane coating or other top coat to protect the finish from wear and tear.
Place the first two prepared pallets on the floor longways (with the short side against the wall), pushing the long sides in the middle together so there's no gap.
Place the second two pallets longways, as well, pushing them against the first two pallets at the top and pushing the long sides together in the middle so there's no gap there, either. If you'd like, you can use long zip ties or twine to hold the pallets together and prevent them from shifting out of position. If you find one layer of pallets is too low for your preferences, you can add a second or even third layer of pallets to create a taller platform.
Use a piece of foam cut to the size of your mattress between the pallet platform and your mattress to prevent damage, placing it against the wall and centered on the platform. Another option is to use an inexpensive, thin foam mattress topper placed on the bottom of the mattress rather than the top.
Lay your mattress on top of the protective foam layer and you've got yourself a trendy pallet platform bed!
Why Are Pallets Great for DIY Beds?
Pallets are a perfect material for DIY beds because they're built to be structurally sound. Since their initial purpose is to serve as a platform for potentially heavy freight over long, rough journeys, they have no problem holding the weight of a mattress and those who sleep on it. Like platform beds, which have increased in popularity over the past several years, you don't need a box spring for a pallet bed since the pallets serve as the platform.
There are also so many different ways to make a pallet bed. You can add a pallet headboard by placing pallets upright at the head of the bed or even attaching them to the wall. You can use different numbers of pallets or different-sized pallets to create just the right configuration. For example, you can use two pallets instead of four to create a twin-sized platform bed. They're great for indoor or outdoor use, even.
When it comes to pallet beds, the possibilities are endless. Get creative and enjoy your new custom furniture!