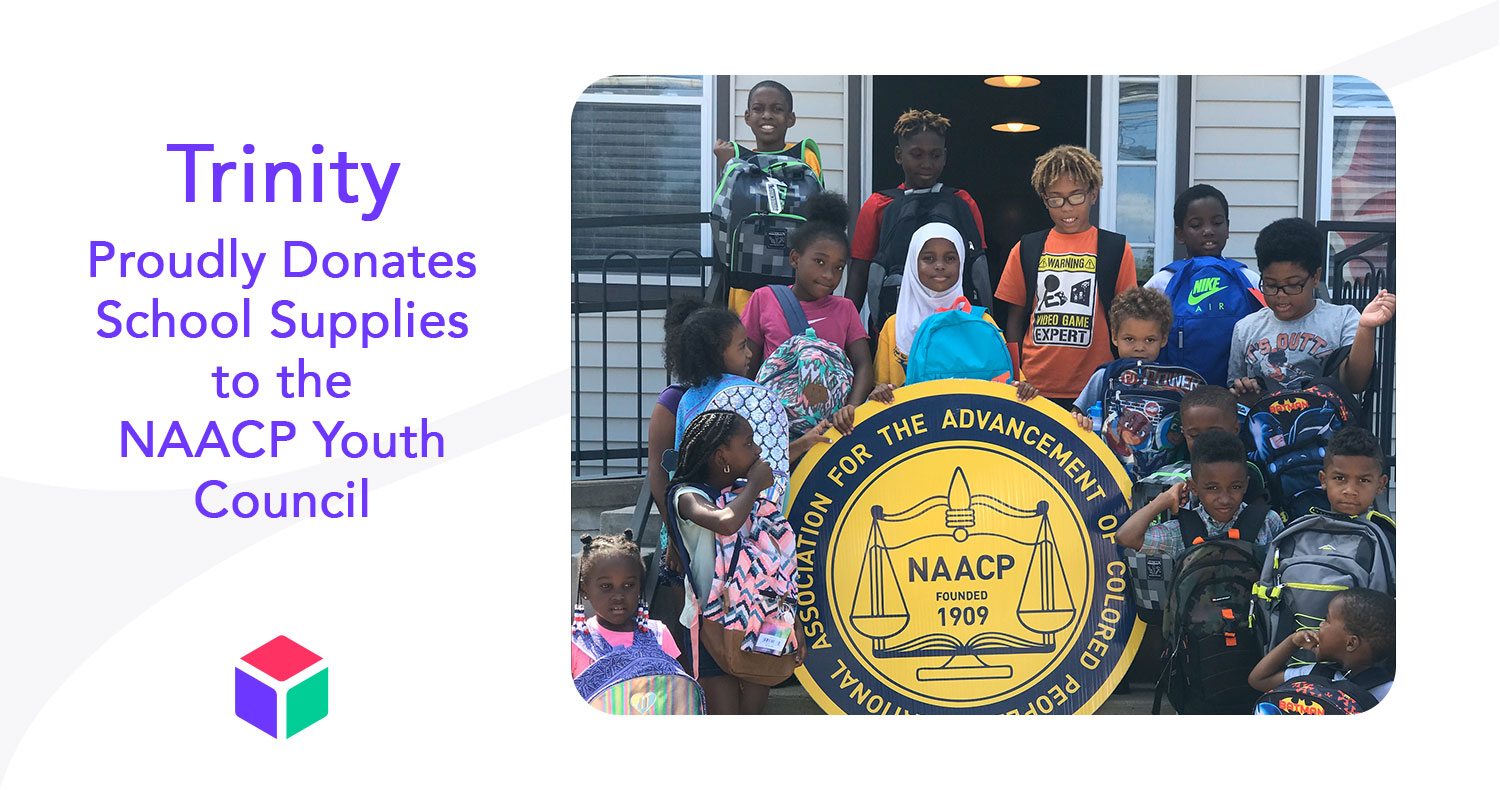 Charity
6th Annual School Supplies Giveaway Returns to Gloucester County
Trinity Packaging Supply donates school supplies to the Gloucester County NAACP Youth Council, headed by our own Dominique Banks.
Did you know that over 11 million kids in the United States live in poverty?
According to American Progress, 1 in 7 children lives in poverty in the US. When school season rolls around, these kids arrive on the first day of school without the materials they need to be successful.
Chapter 2768 of the NAACP Youth Council (GCNAACPYC), headed by Trinity Packaging Supply's own Dominique Banks, is trying to change that with their 6th annual Backpack & School Supplies Giveaway - and you're invited!
Join Dominique and the Gloucester County NAACP Youth Council on Sunday, August 14th in Woodbury Heights, New Jersey for a fun-filled afternoon supporting a great cause! From 2:30-5:30 pm, they'll give away backpacks filled with local donations to help kids start the school year off on the right foot.
But wait! This year's event comes with a fun twist that you won't want to miss. Check out five reasons why you can't miss this giveaway and how you can help make a difference in the Gloucester community.
5 Reasons to Attend the Backpack & School Supplies Giveaway
Reason #1: Enjoy a Fashion Show
Giving back to the community is always in style. However, this year mini-models are turning this back-to-school giveaway into a runway!
Kids of all ages are teaming up to show off their talents by partaking in the giveaway's first-ever back-to-school fashion show. Support these kids and cheer them on as they strut their stuff!
Reason #2: Enter Our Raffle
Drop off school supply donations and walk away with a prize! The GCNAACPYC will raffle off many fun and exciting prizes throughout the event, including an Eagles basket, a game basket, and more!
Reason #3: Have Fun and Play Some Games
Bring the kiddos out for a little end-of-summer fun! There will be fun activities for kids to enjoy, including a bounce house and a crafting table.
Reason #4: Treat Yourself
Enjoy a sweet treat while supporting your community!
Not only will there be a cotton candy machine, but you'll melt for a delicious cup of Rita's Ice. This local sweet shop will serve up Italian ice and frozen custard during the event, providing a sweet way to beat the summer heat!
Reason #5: Help Local Kids in Need
The best reason to attend our event? To help dozens of Gloucester and Camden County kids start the school year on the right foot.
This year, Trinity Packaging Supply is providing 100 backpacks and school supplies for students. Supporting causes our employees are passionate about that make an impact in the community is important to our CEO, Anthony Magaraci. In fact, earlier this year, we donated $120,000 to veterans in need.
Speaking of making an impact: this event also provides kids the opportunity to join the GCNAACPYC like Dominique did when she was in 7th grade.
"I started inviting my friends and family to join me on various workshops, tours, and conventions," chapter president Dominique says. "Ever since then, I've been helping educate and create young leaders in Gloucester County."
The NAACP Youth Council aims to create a society where everyone has equal rights without discrimination by inspiring the next generation of civil rights leaders and social justice advocates. Members of the Youth Council help advance the economic, social, and political status of African Americans and other racial and ethnic minorities while developing their leadership skills.
Back-to-School Event Details
We hope you'll join us, Dominique, and Chapter 2768 of the GCNAACPYC this Sunday! RSVP today!
When: August 14th, 2022
Where: CWA Local 1038 - 455 Glassboro Road, Woodbury Heights, NJ 08097
Time: 2:30 pm - 5:30 pm
Where to park: Parking will be available at the beauty salon two houses down from CWA Local 1038
Food and drinks will also be available for purchase at the event.