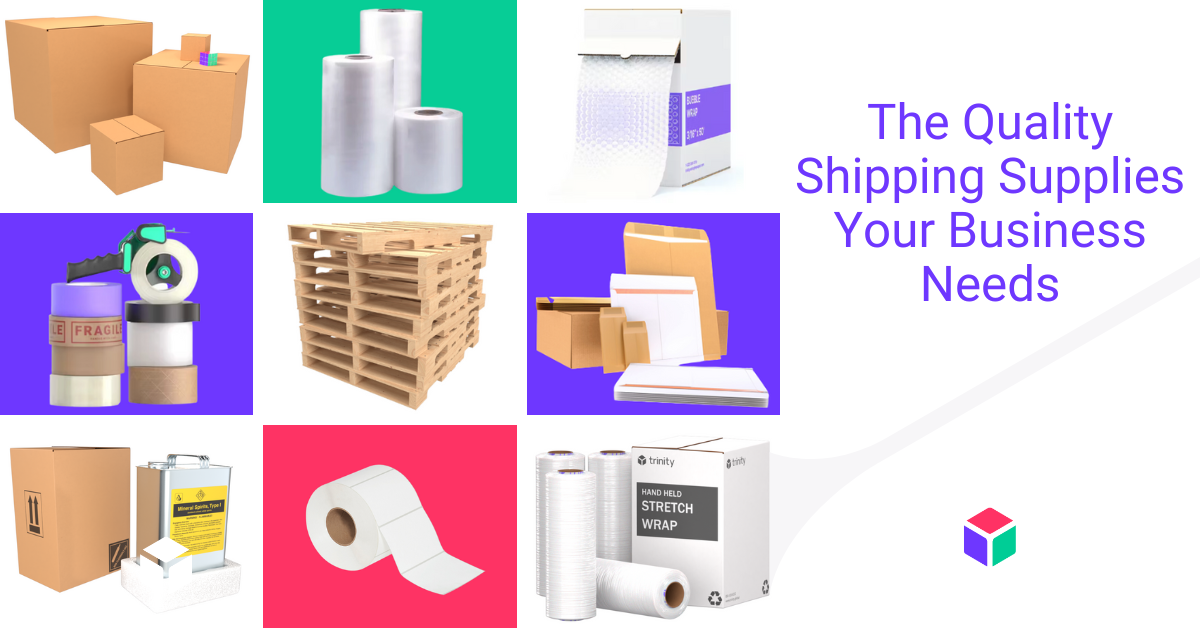 Sep 11th, 2023
Updated:  Sep 12th, 2023
Shipping
Quality Shipping Supplies for Your Business
From the moment a customer clicks "purchase" to the arrival of their long-awaited package, retailers rely on quality shipping supplies to ensure a smooth delivery experience.
But what exactly are shipping supplies? And which ones are crucial to getting orders from A to B?
Join us as we unbox the shipping supplies businesses need to make the shipping world go 'round, as well as some industry tips and tricks to increase savings and efficiencies!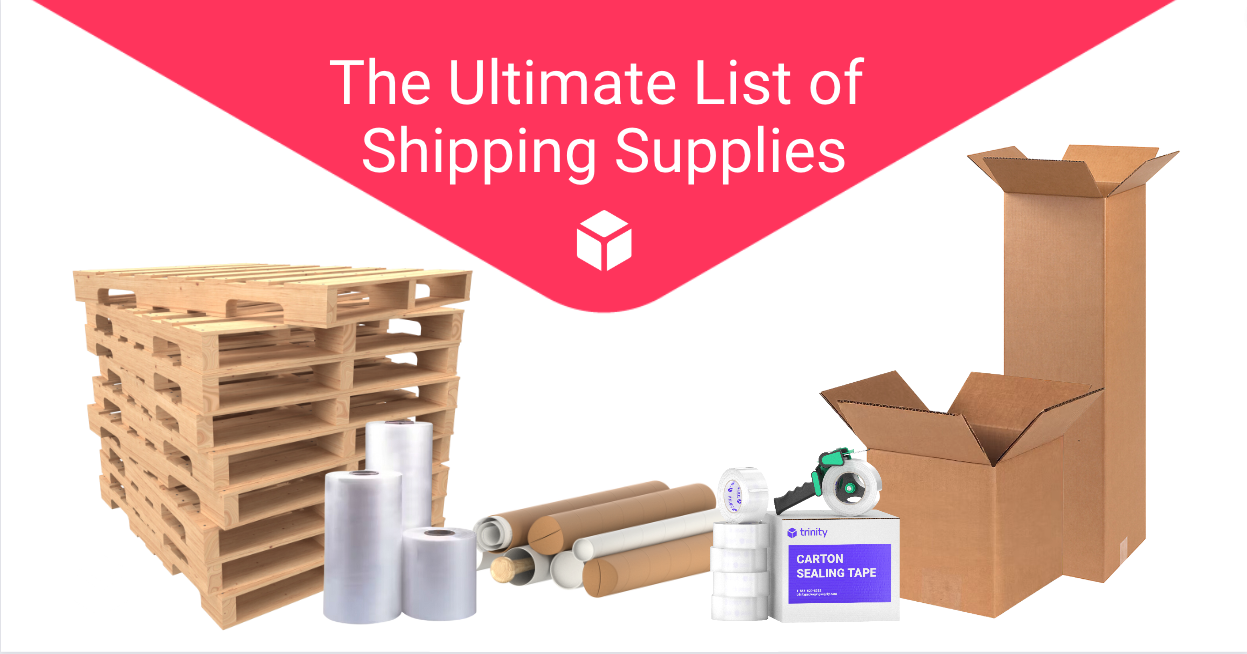 Essential Shipping Supplies Businesses Need
Shipping boxes, typically made of cardboard, protect different-sized items. Popular shipping boxes include corrugated mailers and multi-depth boxes.
The unsung hero of shipping, pallets are platforms used to stack and transport large quantities of goods. They are typically made of wood but are also available in plastic and metal materials.
Fill empty spaces in boxes and prevent items from shifting during transit with popular products like air pillows, foam inserts, and kraft paper.
Everyone's favorite cushioning material! Bubble products are made of plastic bubbles that help protect fragile items from breaking during transit.
Strong adhesive tape seals boxes securely to ensure your box is shipped with its contents intact. Want extra protection? We offer tamper-evident tape options to give you a little extra security during the shipping process.
Labels with barcodes, tracking numbers, special instructions, and destination addresses securely attached to packages for tracking and identification are crucial.
Durable plastic mailers are great for shipping non-fragile items and soft goods like clothing.
Use padded or non-padded envelopes for shipping documents, photographs, or small items.
If you use pallets, you'll definitely need stretch wrap! This powerhouse product secures and protects palletized shipments.
These cylindrical containers are great for shipping thin, rolled items like posters and artwork.
Reinforce your box's corners to prevent damage during shipping with these cardboard or plastic protectors.
Strapping materials, typically made of plastic or steel, are used to secure and stabilize items or packages for transportation, storage, or handling.
If you're shipping temperature-sensitive items, you'll need special containers and fill, like cold packs and insulated foam containers, to get your products delivered without melting.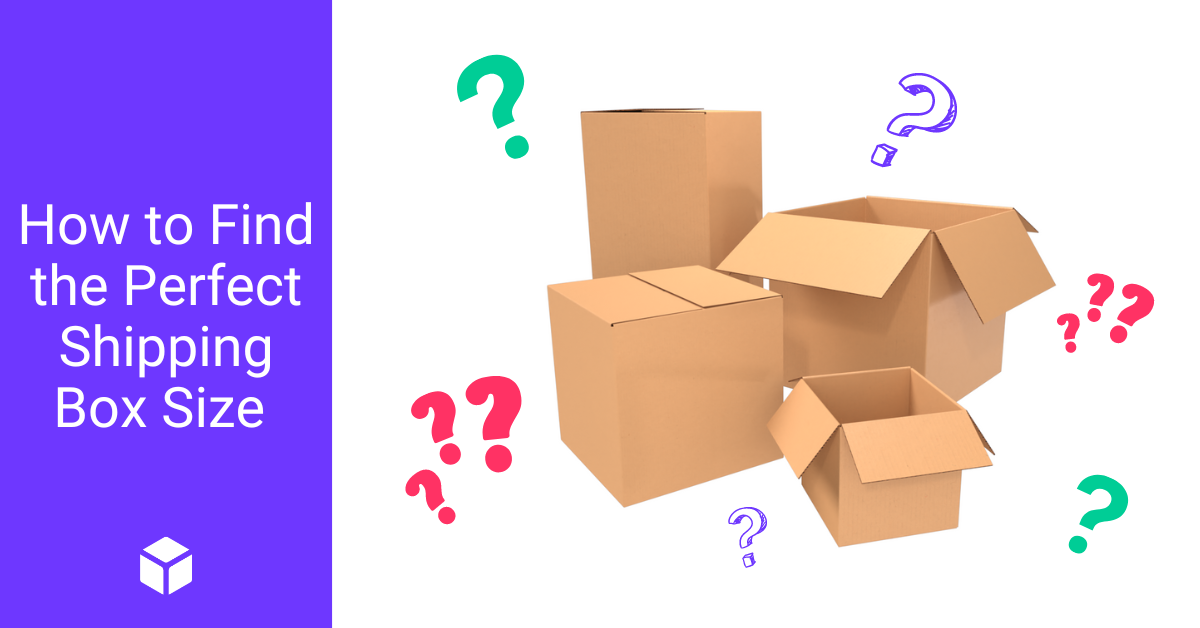 Choosing the Right Shipping Box Size for Your Products
Choosing the right shipping box size for your products is important for several reasons:
The Right Supplies Can Decrease Shipping Costs
The size of your box influences shipping costs and directly affects your bottom line. A box that is too large for your product leads to wasted space and increased shipping expenses. Conversely, a box that is too small may result in damaged products and costly returns.
By selecting the appropriate box size, you can optimize shipping costs, improve profit margins, and maintain a competitive edge in the market.
Proper Sizing Protects Your Products
Secondly, the perfect shipping box size ensures product protection during transit and provides sufficient cushioning and support, reducing the risk of damage to your goods during handling and transportation.
This also enhances customer satisfaction by delivering items in pristine condition. Happy customers are more likely to become repeat buyers and ambassadors for your brand, driving long-term success for your business.
Branded Boxes = Brand Awareness
Lastly, the shipping box serves as an extension of your brand's image and values. Customizing the box with your logo, colors, and branding elements elevates the unboxing experience, creating a lasting impression on customers.
This attention to detail conveys professionalism and dedication to quality, instilling trust in your brand. Choosing the right shipping box size and investing in aesthetically pleasing packaging can strengthen your brand identity, foster customer loyalty, and help your brand stand out in a competitive market.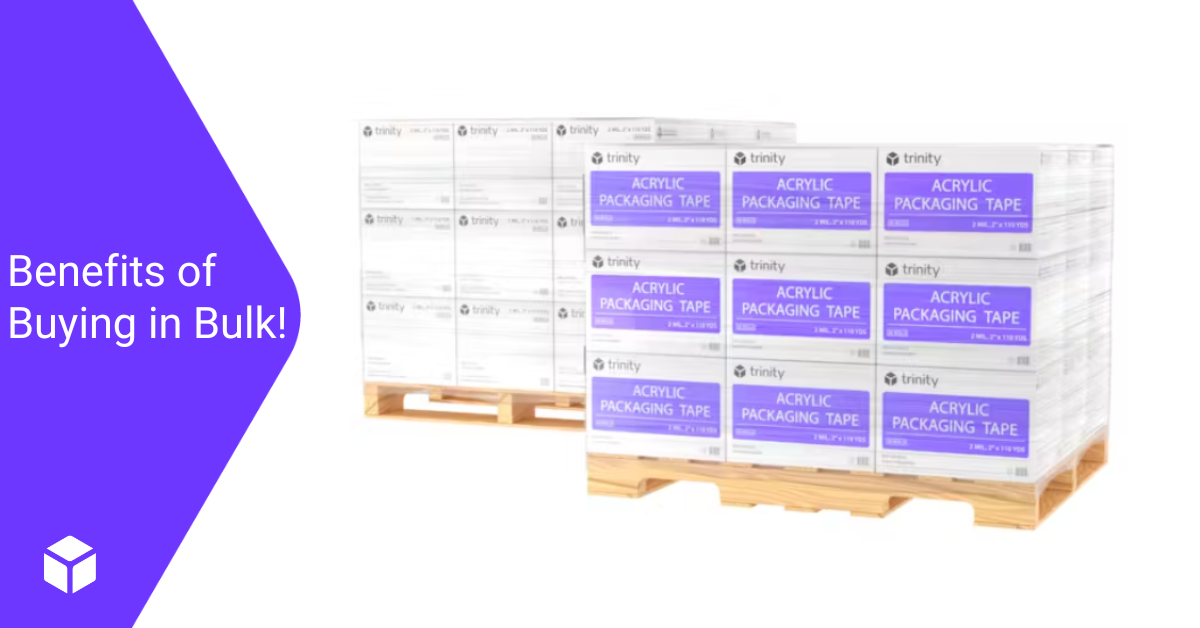 What Are the Benefits of Buying Wholesale Shipping Supplies?
Buying wholesale shipping supplies offers several significant benefits for businesses, particularly those engaged in e-commerce or drop-shipping.
Cost-Effectiveness
Purchasing supplies in bulk often comes with discounted prices, allowing businesses to lower their overall packaging costs. With wholesale buying, you can access competitive pricing that may not be available when purchasing smaller quantities from retail stores, ultimately improving your profit margins.
Supplies Are Always in Stock
Buying wholesale ensures a steady supply of shipping materials. Running out of essential packaging items like boxes, tape, or bubble wrap can cause delays in fulfilling orders and impact customer satisfaction. By purchasing in bulk, you can maintain a sufficient inventory, reducing the risk of shortages and ensuring smooth and timely order fulfillment.
Personalize Your Packaging
Wholesale buying provides an opportunity for customization and branding. Many wholesale suppliers offer personalized packaging options, allowing you to add your company's logo, colors, and other branding elements to your shipping supplies. This customization enhances your brand's visibility and creates a cohesive and professional look, leaving a lasting impression on customers.
Where Can I Find Shipping Supplies for Drop-shipping?
If you're into drop-shipping and are seeking reliable shipping supplies, Trinity Packaging Supply's online catalog has everything you need!
Our e-commerce catalog offers packaging's largest catalog of shipping supplies, including over 1,600 box sizes, bubble wrap, void fill, tape, and more. We offer highly competitive prices and convenient shipping options, with next-day delivery available across most of the United States.
Additionally, specialized e-commerce suppliers and wholesalers like Trinity are excellent resources for shipping supplies tailored for drop-shipping. We understand the unique needs of e-commerce businesses and can offer bulk pricing and customized packaging to fit your needs.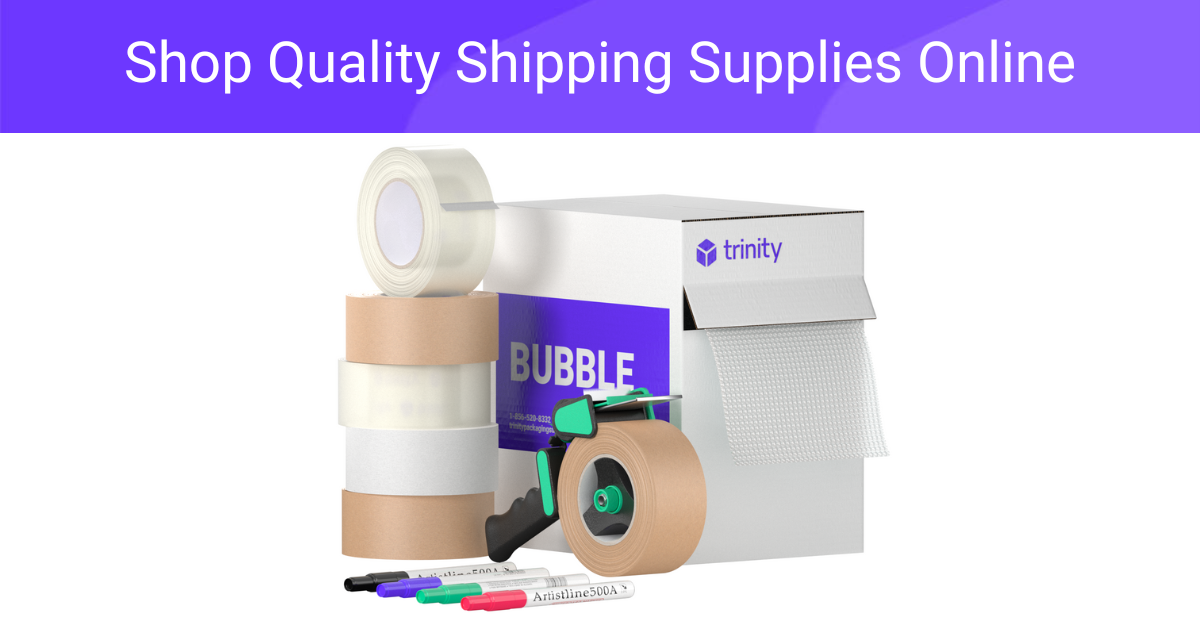 Stock Up on the Shipping Supplies You Need
Whether you're a drop-shipping business or a brick-and-mortar retailer searching for quality shipping supplies, Trinity has thousands of shipping products in stock at low prices with quick delivery. Shop our online catalog today to find great prices on the supplies you need!
If you're looking to purchase shipping supplies in wholesale quantities, contact our packaging experts today for a free quote! Our team will learn the ins and outs of your business to recommend the best products and additional cost savings.