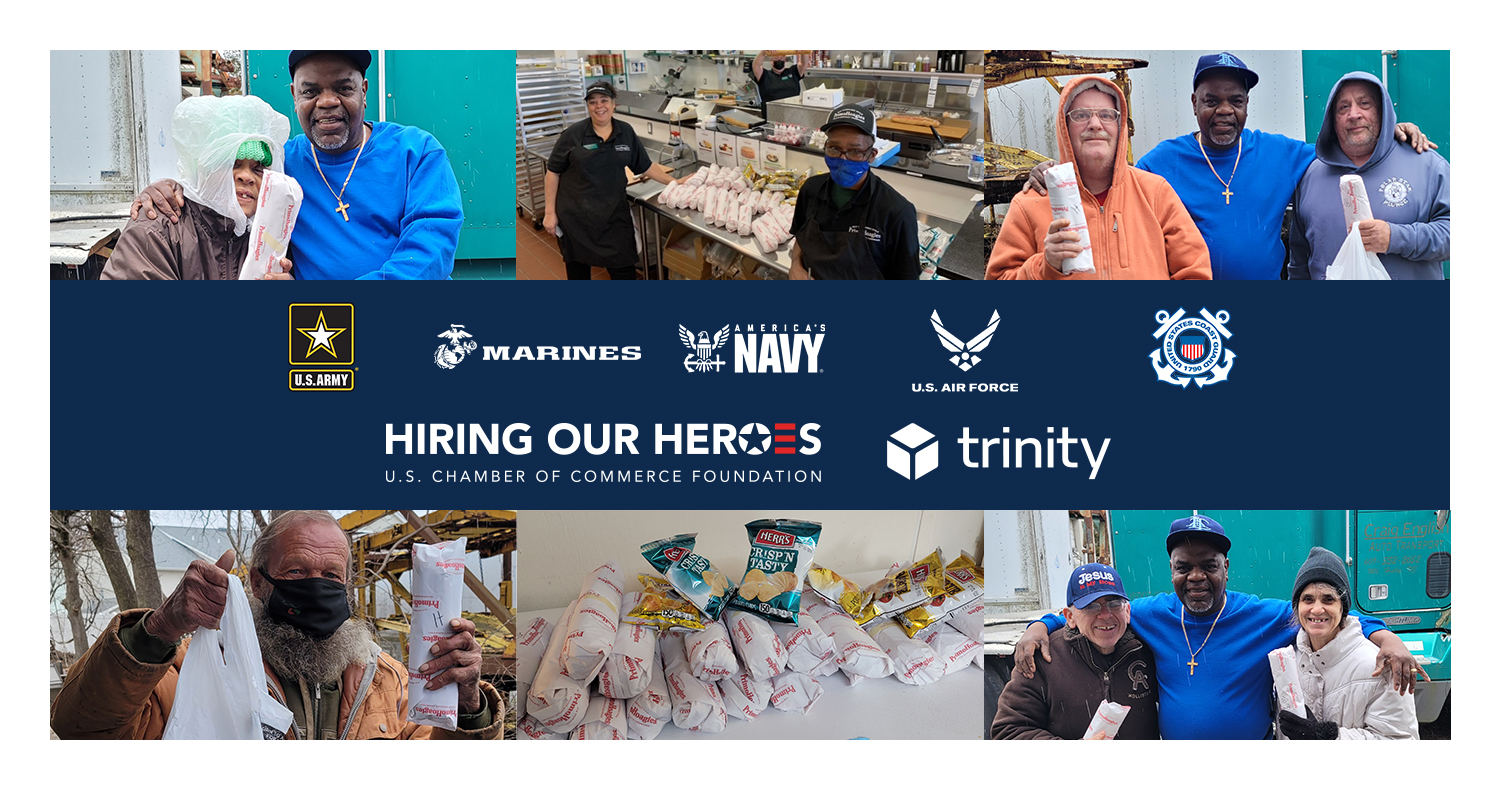 Charity
Trinity Commits $120,000 for Veterans in Need
Helping fight hunger, support our Veterans, and help one person's small business
Four days a week, dozens of gourmet hoagies (subs, heroes, or submarine sandwich depending on where you're from!) are served to those in need at The Extended Hand Ministry shelter in Mount Holly, New Jersey. The shelter serves homeless Veterans and provides over ten thousand community meals each year.
Trinity has committed $10,000 a month to PrimoHoagies Moorestown, a Veteran-owned small business, to provide sandwiches for those who come to The Extended Hand for lunch. "The people receiving the hoagies are absolutely thrilled," said Michael Gould, a longtime volunteer with The Extended Hand. The hoagies are served alongside a hot meal and many clients take the sandwiches home for dinner. "They are a real treat. Word is spreading about the delicious sandwiches and we are starting to see more first-time clients," Gould said.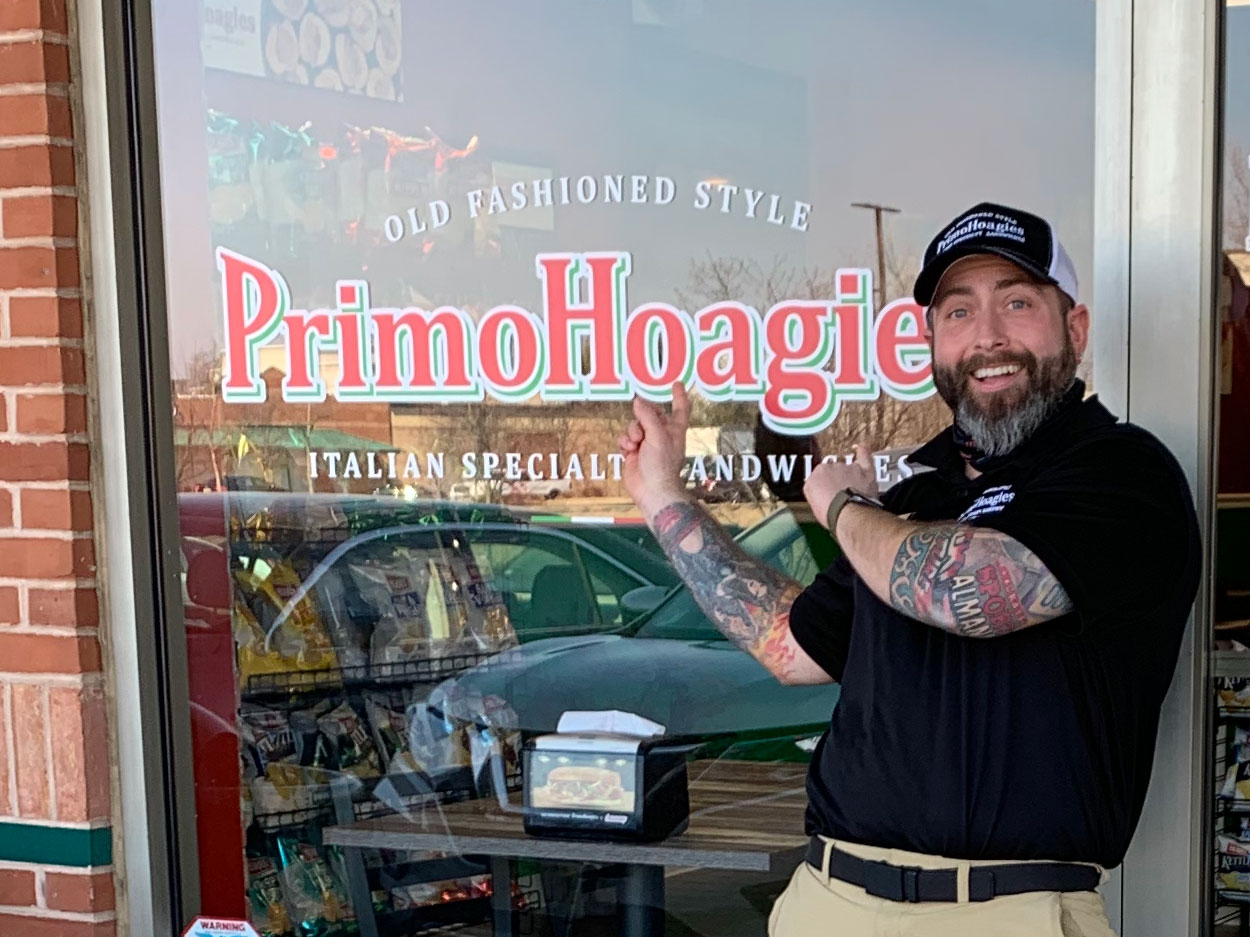 Eric Allen, Marine Corps Veteran PrimoHoagies in Moorestown, NJ.
Eric Allen, a U.S. Marine Corps Veteran, is the franchisee of PrimoHoagies in Moorestown. Trinity's ongoing support has lifted some of the weight off Allen's shoulders as he launches his new business amid the pandemic. Knowing that his sandwiches are going to those in need, including many Veterans, "It creates an extra layer of satisfaction for myself and my employees,'' Allen said.
Trinity's CEO, Anthony Magaraci, supports local charitable organizations and sees the partnership with Allen's business and The Extended Hand Ministry as an opportunity to make a community impact. "It's a way to fight hunger, support our Veterans, and help one person's small business," Magaraci said. "It's a positive thing all around."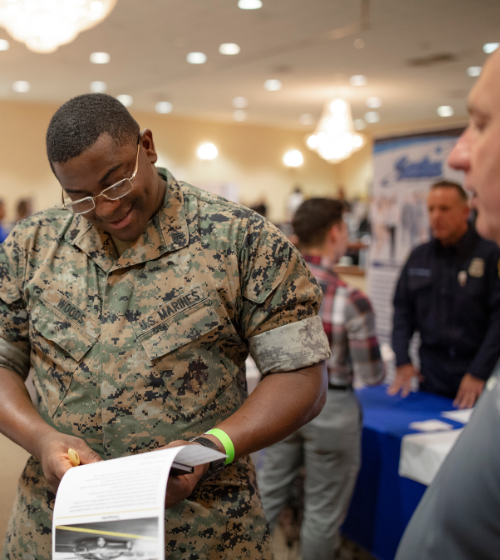 A Marine reviewing opportunities at a Hiring our Heroes Job Fair
Trinity has also partnered with Hiring our Heroes, an organization that connects military service members, military spouses, and Veterans with American businesses. Trinity will be participating in the organization's fellowship program, hosting service members, Veterans, or military spouses as fellows. Those fellows take on various roles in the company for a 12-week period before they and Trinity decide if they stay on as permanent employees. "I recognize that the resources available to our service members as they transition from service to civilian life are limited and there is room for improvement. We are grateful and proud to work with an organization that helps bridge that gap." Magaraci said, "Their courage should be rewarded," he said. "These are small ways we can do that."