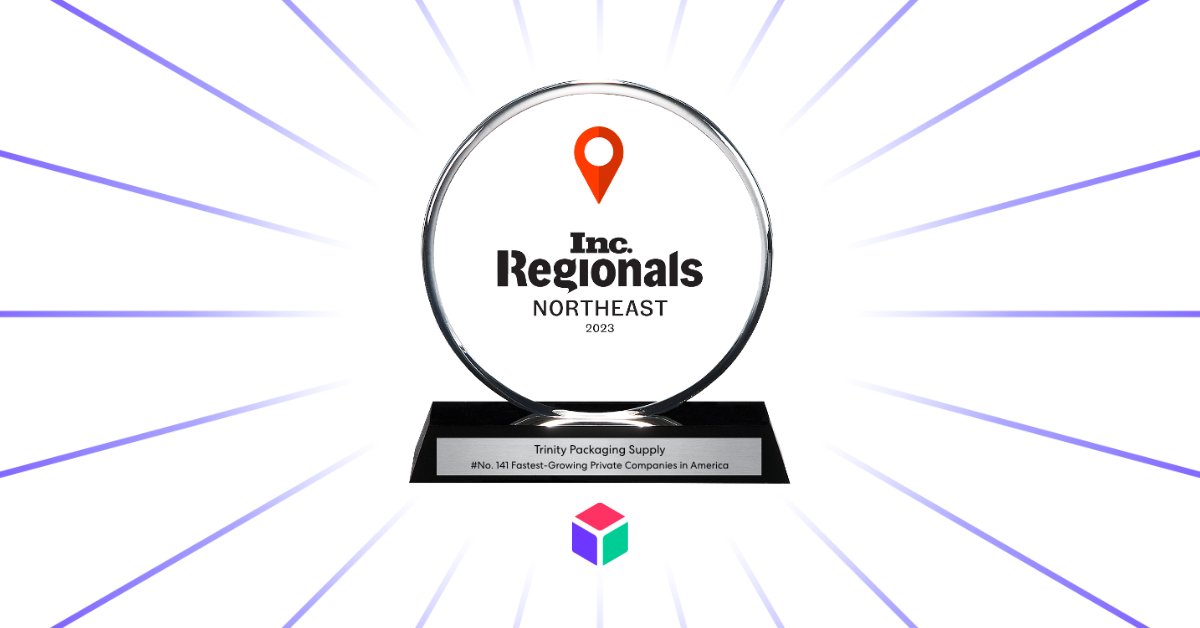 Awards
Trinity Wins Inc. Northeast Region's Fastest-Growing Private Companies
We're adding some new hardware to our office!
Inc. Magazine has ranked Trinity Packaging Supply #141 on their Fastest-Growing Private Companies list for the Northeast region.
"This year's Inc. 5000 Regional winners represent one of the most exceptional and exciting lists of America's off-the-charts growth companies. They're disruptors and job creators, and all delivered an outsize impact on the economy. Remember their names and follow their lead. These are the companies you'll be hearing about for years to come," said Scott Omelianuk, editor-in-chief of Inc. Magazine.
What is the Inc. Northeast Region's Fastest-Growing Private Companies List?
What is Inc. Magazine?
Inc. Magazine is the world's most trusted business-media brand, offering entrepreneurs the knowledge, tools, connections, and community they need to build great companies.
It's most famous for its prestigious Inc. 5000 list, which recognizes the fastest-growing privately held businesses in the United States. The global recognition that comes with inclusion in the 5000 gives the founders of the best businesses an opportunity to engage with an exclusive community of their peers and gives them the credibility that helps them drive sales and recruit talent.
About the Inc. Northeast Region's Fastest-Growing Private Companies List
Inc. Magazine's Fastest-Growing Private Companies List honors the independent businesses that have achieved two years of incredible revenue growth. To qualify for the list, businesses must have been founded and have earned revenue by March 31, 2019, be US-based, and be privately owned.
The Northeast Region list identifies the fastest-growing businesses based in New Jersey, New York, Connecticut, Massachusetts, Maine, New Hampshire, Pennsylvania, Rhode Island, and Vermont. This year, 169 companies from the Northeast region were recognized.
"It is an incredible achievement to be honored as one of the Fastest-Growing Private Companies in America in the Northeast Region," Trinity's Founder and CEO, Anthony Magaraci, said. "Our sustained hyper-growth is fueled by our drive to provide businesses with cost-effective, sustainable packaging supplies, as well as the amazing relationships we have with our customers and our commitment to empowering employees to be their authentic selves."
Trinity's Sustained Hyper-Growth
We have come a long way since being founded in our CEO, Anthony Magaraci's home office in 2010!
Between 2010 and 2012, Trinity grew from earning $30,000 in annual revenue to over $3 million. Since then, Team Trinity has maintained its hustle and has doubled its annual revenue every two years.
Today, we are a $100 million company with over 60 employees and six office locations nationwide, including our East Coast headquarters in Voorhees, New Jersey. Between 2019 and 2021, Trinity netted a two-year growth rate of 84%, which landed us on the Inc. Fastest-Growing Private Companies list!
Trinity's History with Inc. Magazine
This isn't the first time Trinity has been honored by Inc. Magazine. Since 2010, Trinity has been named:
A seven-time Inc. 5000 Fastest-Growing Companies in America winner (a feat only 1% of winners have achieved!)
A three-time Best Places to Work winner
An inaugural Inc. Power Partner winner
A Best in Business 2022 winner
New Jersey's Go-To Packaging Supplies Partner
While Trinity won the Inc. award for the Northeast region, we don't just serve New England.
Trinity provides businesses across North America with more sustainable, cost-effective packaging supply solutions. We work with local suppliers to provide the best prices and quickest lead times on standard and custom packaging supplies, pallets, and more.
Give us a call today at (850) 520-8332 or send us a message to schedule a free packaging consultation today!